CeBIT Eurasia, taking place between 7th and 12th of October in Istanbul, is no less important than its European counterpart. We're here showcasing the latest version of our products in hall 2, section 248. If you are in the city and visiting CeBIT, we'd love to see you!
The photo above shows the calm before the storm. Now that CeBIT's started, it's been pretty busy around here. Tomorrow, I'm going to be talking about cybercrime and good security practices as well as some of the most recent technologies used in our 2009 products. I've also been doing interviews – here's me and Selin Canik for Haber Turk, which is one of the leading news channels in Turkey.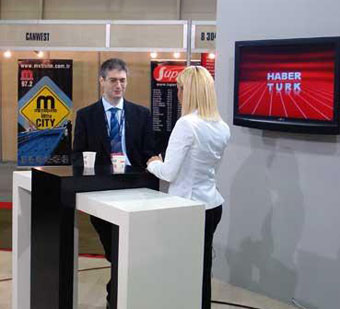 Hopefully there's going to be a bit of free time to enjoy a nargile (hookah) and a Turkish coffee, before getting back to Bucharest to prepare for the official opening of our Romanian office.