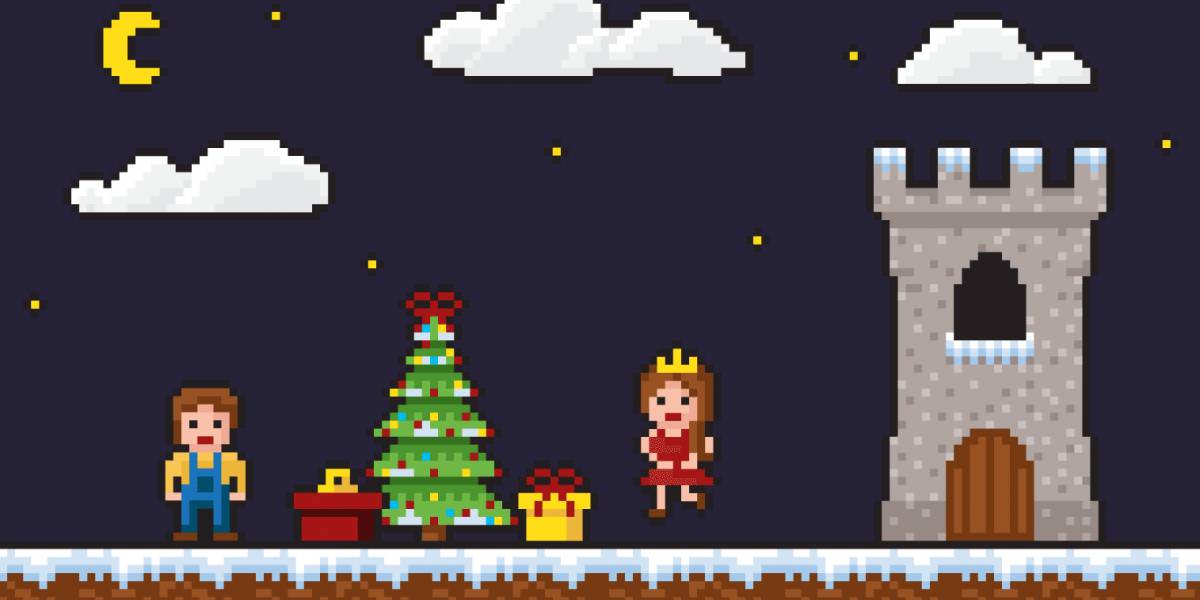 Due to the pandemic situation in late 2020, street festivities got canceled worldwide. For many families, get-togethers with grandparents over the Christmas period were also put on hold. As a result, children across the globe sought holiday fun and games from the comfort of home. And thanks to modern tech and the ubiquitous internet, they had no reason to be bored.
We analyzed and categorized the most popular websites and search queries over the festive period (December 20, 2020 — January 10, 2021) to find out how kids compensated for the lack of outdoor winter entertainment.
How we collect our statistics
Our Kaspersky Safe Kids solution for home users scans the contents of web pages that children try to visit. If the site falls into one of fourteen undesirable categories, the product sends an alert to Kaspersky Security Network. In doing so, no personal data is transmitted and user privacy is not violated. Note:
It is up to the parent to decide which content to block by tweaking the protective solution's preferences. However, anonymous statistics are collected for all the 14 categories.
The information in this report was obtained from computers running Windows and macOS; mobile statistics are not presented.
Website categorization
Web filtering in Kaspersky Safe Kids currently covers the following categories:
Online communication (social networks, messengers, chats, forums)
Adult content
Alcohol, tobacco, narcotics
Violence
Weapons, explosives, pyrotechnics
Profanity
Gambling, lotteries, sweepstakes
Video games
Electronic commerce (shops, banks, payment systems)
Software, audio, video
Recruitment
Religions, religious associations
News media
Anonymous access tools
Search query filtering
Children's search activities best illustrate their interests. Kaspersky Safe Kids can filter kids' queries in five search engines (Bing, Google, Mail.ru, Yahoo!, Yandex), as well as on YouTube. Filtering targets six potentially dangerous topics: Adult content, Alcohol, Narcotics, Tobacco, Racism and Profanity.
We took as the 100% value the Top 1000 search queries collected from the above search engines, plus YouTube, and separately calculated the Top 1000 search queries for this video platform. The ranking was based on the number of times a query was input, without breakdown by region or language. The popularity of a topic is determined by its share of related queries.
We divided the search queries collected from December 20, 2020 to January 10, 2021 into thematic categories:
YouTube
Games
Translate
Communication
Music
Video platforms
Education
Shopping
Anime
Cartoons
Other topics
Because YouTube queries account for nearly 50% of the total, they merit a separate category.
What sites were kids interested in?
Distribution of categories of visited sites, December 20, 2020 — January 10, 2021 (download)
Most often, children visited websites with video and audio content (40.36%). This is 2.58 p.p. more than the average for the year (June 2019 — May 2020), while the share of the category amounted to 39.11%. In second place was Online communication (25.8%). The share of visits to the web versions of WhatsApp and Telegram, Facebook, Instagram and other sites in this category also increased against the average indicator for the year (24.16%). Third place went to Video games (16.19%), interest in which also grew slightly: data for the period June 2019 — May 2020 showed 15.98%. But the number of visits to online stores turned out lower than the yearly average: 10.94% versus 11.25% in 2019–2020.
What did kids look for during the winter break?
Distribution of Top 1000 search queries by topic, December 20, 2020 — January 10, 2021 (download)
Kids' search activity shines a light on their interests and largely correlates with the stats on website hits. The highest number of searches in the Top 1000 during the winter break mentioned YouTube (20.84%). In second place in terms of popularity were gaming-related queries (15.47%). Kids also often searched for online translation resources (11.02%). The most popular English-language query on this topic was "google translate".
Software, audio, video
Despite many overlapping interests, kids from one region sometimes showed a greater preference for certain content than their peers elsewhere. In particular, children from South Asia (Bangladesh, India) showed the most interest in audio and video content (52.84%). In the CIS, meanwhile, the share of such content was only 39.2%.
Share of visits to websites in the Software, audio, video category by region, December 20, 2020 — January 10, 2021 (download)
YouTube is currently one of the most popular sites; it was there that children spent most of their time during the festive holidays. This is backed up by the data on kids' search queries: 46% of all Top 1000 queries in the reporting period happened on YouTube; and the most popular search engine query worldwide was "youtube".
Distribution of Top 1000 search queries by source, December 20, 2020 — January 10, 2021 (download)
We decided to see what exactly kids look for inside YouTube itself. To do so, we collected the Top 1000 search queries by children on this platform from December 20, 2020 to January 10, 2021.
Distribution of Top 1000 kids' search queries on YouTube by topic, December 20, 2020 — January 10, 2021 (download)
Most often, children searched for gaming content (37%). In second place are searches for bloggers or channels of a general nature (20.94%). The typical blogger followed by kids usually posts videos related to one or more of the following: challenges, unboxing, DIY, lifestyle, streams of popular games; plus a mandatory music clip. Such bloggers accounted for no less than a fifth of the search queries in our Top 1000.
The third most common YouTube search topic, as expected, is music (17.13%), the most sought-after artists being the Korean pop groups BLACKPINK and BTS, alongside Ariana Grande, Billie Eilish and Travis Scott. The most popular songs were "Baby Shark", "Dance Monkey" and "Savage Love" (a dance on TikTok with 24 million views).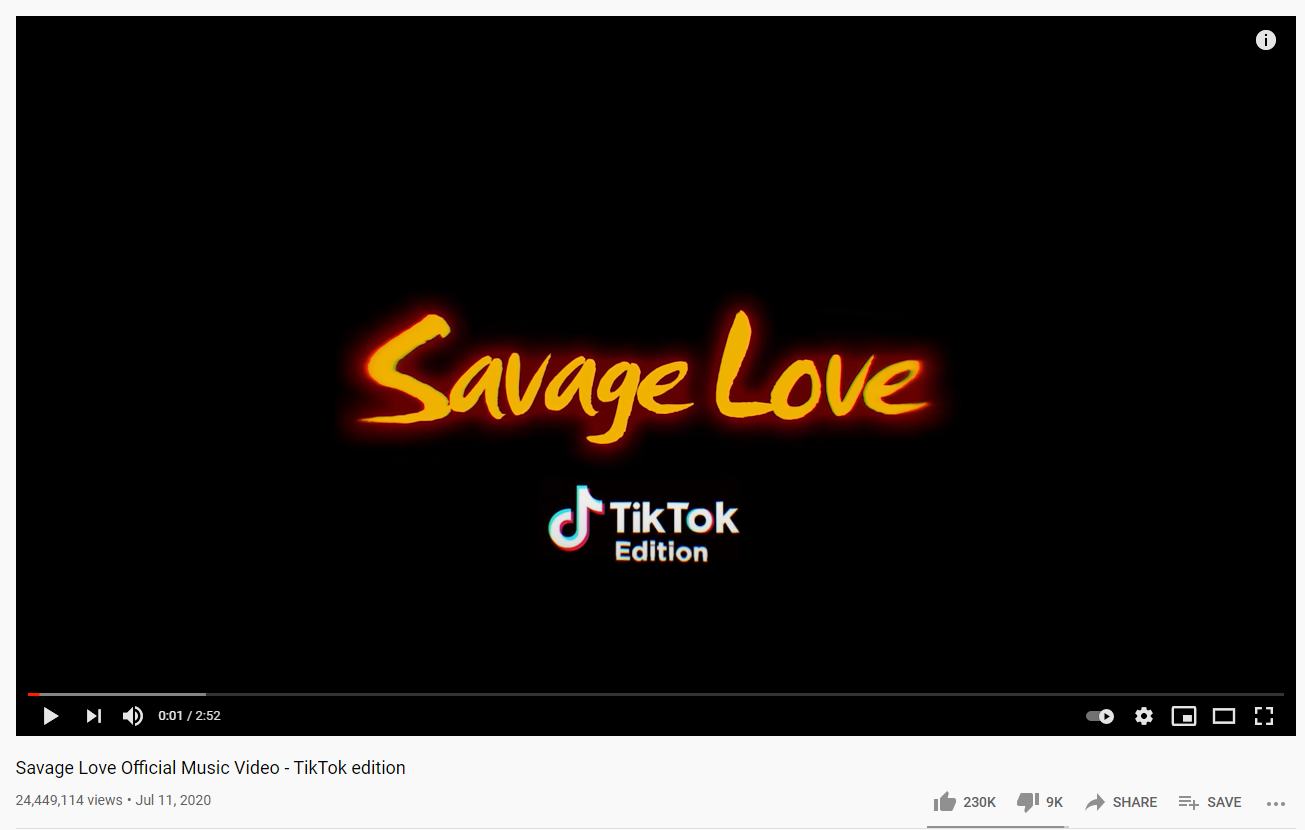 But YouTube wasn't the only platform of interest to children. In the Video platforms category (7.59%), children searched for "netflix", "disney plus", "amazon prime" and (Russian-speaking kids) "yandex ether".
The most popular TV series over the festive period, judging by the number of queries, was The Mandalorian.
Video games
The Video games category ranks third by number of website visits by children worldwide. The most likely to visit gaming sites were kids in Asia (25.10%). But those in South Asia, as we saw above, prefer video and audio content (5.21%) over games.
Share of visits to websites in the Video games category by region, December 20, 2020 — January 10, 2021 (download)
Among the search queries, gaming is the second most popular topic after queries related to YouTube. The three most popular queries in the reporting period were "roblox", "among us" and "minecraft".
Moreover, most kids' searches on YouTube were for channels of streamers who play live games and bloggers who specialize in Minecraft.
Shares of grouped search queries in the Top 1000 queries on the topic of video games on YouTube, December 20, 2020 — January 10, 2021 (download)
The most popular gaming blogger among English speakers for many years now has been PewDiePie, and among Russian speakers Pozzi. The most popular kids' games, judging by YouTube search activity, are Among Us, Minecraft, Brawl Stars and Gacha Life. The last of these let's players create video stories to watch on YouTube, which kids simply love.
As we predicted in the runup to the festive period, kids couldn't get enough of the Nintendo Switch game console. During the winter break, kids searched for "nintendo switch" and "nintendo switch lite" more often than "ps5". One of the biggest-hit Nintendo Switch games was Just Dance.
Interests worth a special mention
In some regions winter break starts earlier or later than in others, that is why education (5.34%) was still a popular search topic. English-speaking children, for example, most often searched for "google classroom".
During the holidays, children took an interest in DIY instruction videos. The most popular YouTube channels on this topic are 5-Minute Crafts (70 million+ subscribers), Troom Troom (21.7 million) and 123 GO! (around 10 million). Accordingly, the most popular DIY-themed searches among kids were "5 minute crafts", "troom troom" and "123 go".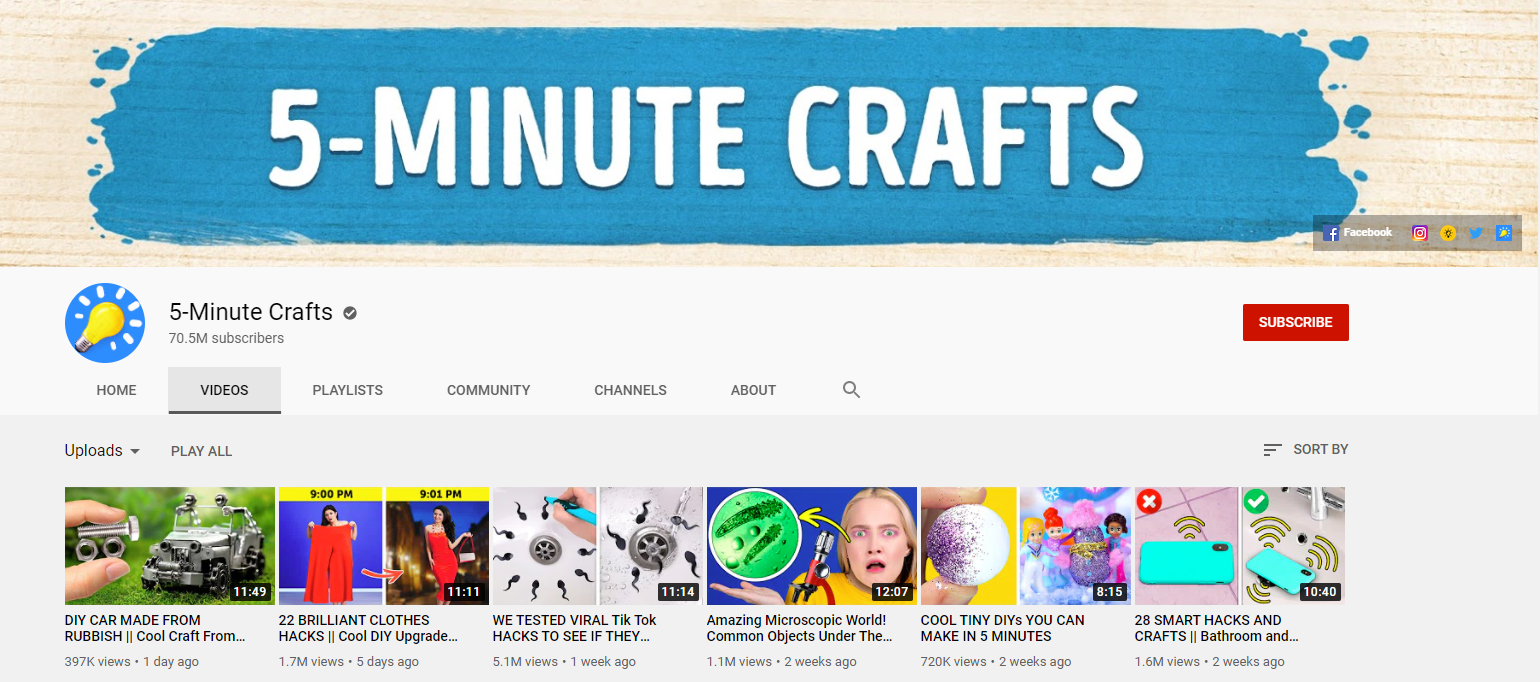 5-Minute Crafts channel on YouTube
Besides musicians and bloggers, the personalities that children inquired about most during the winter break were Donald Trump (searched for more than any other famous figure), Emma Watson and Elon Musk.
Despite ASMR videos having been around forever (almost), we observed that kids have become more interested in them lately. Among the frequent searches were "asmr" and "asmr eating".
This winter was not without challenges (in every sense of the word). As for the online variety, Try Not To Laugh was the most popular during the holiday period. Children searched for it not only in English, but also, for example, in German "versuche nicht zu lachen".
If you think kids had no time for TikTok, think again. In addition to the general queries "tiktok" and "tik tok", they searched for "tik tok mashup", "how to change restricted mode on tiktok".
Conclusion
Despite the absence of Christmas fairs and New Year parties, children still found plenty of entertainment, and not only of the consumerist kind. Going by the popularity of DIY videos, kids enjoy tinkering and making things manually, while their passion for Gatcha Life reveals a desire to tell and screen their own stories. TikTok inspires them to get off the couch and shoot all kinds of videos, not just silly ones. K-pop makes it impossible to sit still, and kids love learning dance moves from music clips and special dance videos. Contrary to the stereotype, video games can also help stay physically active: for example, on the Nintendo Switch, the smash-hit Just Dance, which teaches dance moves, and the fitness games Ring Fit Adventure and Fitness Boxing 2: Rhythm & Exercise, released in early December 2020.
Modern technologies are deeply integrated into all our lives, and especially for children who have no recollection of a world without video games, YouTube and messengers at their beck and call. And that's no bad thing, because today's kids know how to diversify their leisure time without leaving home. We adults would do well to take a leaf from their virtual book.