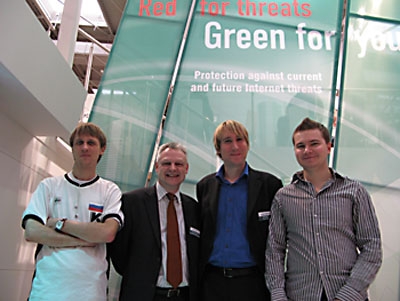 If you're in the Hannover neighbourhood, or if you're at CeBIT already, don't forget to stop at our booth in Hall 6, J16 before it's too late.
Everyone seems to be rushing to our booth to get a copy of Eugene's latest book called 'Malware'. It gives a complete overview of all aspects of malware, including all the history, and it's a real page turner. In my opinion it's a 'must have' for your security library.
Yesterday we had our now traditional Russian disco evening and stayed up a bit later than we should have done. But if you take a look at the picture below you can see we're still in great shape and ready to kick off the CeBIT Kaspersky Analysts Roundtable within the next hour!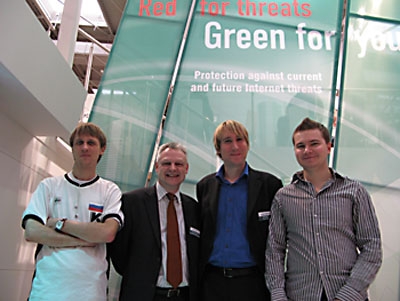 From left to right: Alex, Eddy, Magnus, Vitaly
Incidentally, the big theme over here at CeBIT is 'green IT'. We must be ahead of the times – we've had a green product for years!