The football World Cup kicks off in South Africa in June and it's just the type of global event that Nigerian spammers can't resist exploiting.
We are constantly receiving "Nigerian letters" and emails notifying us that we have won some lottery or other linked to the World Cup.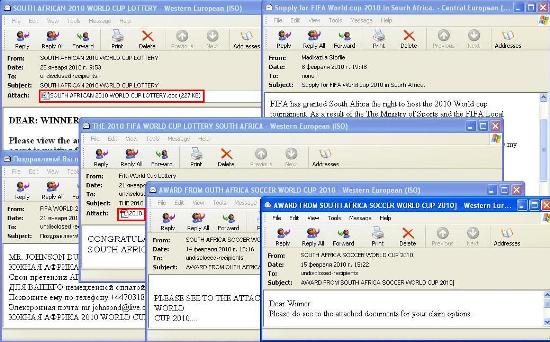 As a mark of just how important this festival of football is, those behind the Nigerian letters have even started attaching files with more details about "lottery wins". If you look at the screenshot above, you'll see four messages stating that additional information has been attached. The "confidential document" is only attached to two of the emails though – no doubt due to the carelessness of the sender.
As well as huge money prizes, some of the messages also offer free World Cup match tickets!
It has to be said that the Winter Olympics have failed to catch the imagination of the spammers in quite the same way, even though they are already underway and the World Cup is still months away. Just remember, if you do receive a message stating you've won millions in an Olympic or World Cup lottery, you haven't struck it rich, you've just been targeted by fraudsters.