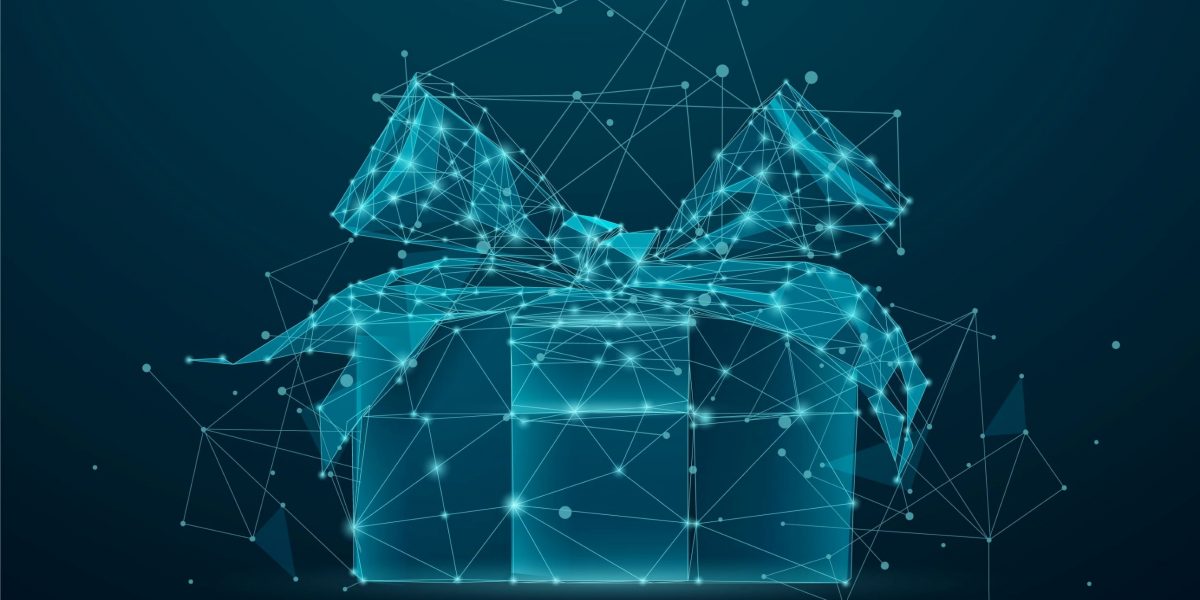 As the holidays approach, many of us are trying to figure out what to buy our family and friends. We especially want to make this time of year festive for kids. If you want to delight children, you need to know what they're interested in: what LEGO set they're dreaming about, what superheroes they'd be happy to see on their pajamas, and what movies you should take them to if you want to make the holidays unforgettable.
In this article we take a look at the online activities of children around the world over the last three months to gain insight into the latest fads and to figure out perfect Christmas gift.
How we collect our statistics
Website categorization
Our Kaspersky Safe Kids solution for home users scans the contents of web pages that children try to visit. If the site falls into one of 14 categories, the product sends an alert to Kaspersky Security Network. In doing so, no personal data is transmitted and user privacy is not violated. Note:
It is up to parents to decide which content to block by tweaking the protective solution's preferences. However, anonymous statistics are collected for all the 14 categories.
The information in this report was obtained from mobile devices running Android and iOS.
Web filtering in Kaspersky Safe Kids currently covers the following categories:
Adult content
Alcohol, tobacco, narcotics
Violence
Profanity, obscenity
Weapons, explosives, pyrotechnics
Job search
Anonymizers
Software, audio, video
Gambling, lotteries, sweepstakes
Internet communication
Online stores, banks, payment systems
Videogames
Religions, religious associations
News media
Detailed descriptions of these categories are posted on our website.
Search query filtering
Looking at children's search activity is the best way to see what they are interested in. Kaspersky Safe Kids can filter kids' queries in five search engines (Bing, Google, Mail.ru, Yahoo!, Yandex), as well as on YouTube. Filtering targets six potentially dangerous topics: Adult content, Alcohol, Narcotics, Tobacco, Racism and Profanity.
This report presents statistics on YouTube searches. The TOP 1,000 search queries collected from YouTube over the period from September to November 2021, inclusive, was taken as 100%. The ranking was based on the number of times a query was input, without breakdown by region or language. The popularity of a topic is determined by its share of related queries.
We have split the search queries we collected from September through November 2021 into several subject categories:
Videogames
Music
YouTube bloggers
Movies, cartoons and TV shows
Gacha Life
Memes
Hobbies and crafts
Squid Game
Anime
ASMR
TikTok
Toys
Adult content
Sports
Educational content
Miscellaneous
Control the use of programs
Kaspersky Safe Kids allows parents to control and limit the amount of time their children spend on apps on their devices. This study draws on anonymized data on the number of hours children spent on apps on devices running the Android operating system in the world as a whole.
We determined 10 world's most popular apps. We took the sum of the hours spent on these apps for 100%. The percentage breakdown in the TOP 10 reflects the number of hours spent on each app.
Most popular Android apps
Over the last few years, we have observed a trend of children shifting their activities from desktop and laptop computers to mobile devices. These days, most children are actively using not only computers but also smartphones and tablets. To come up with the most accurate gift forecast, we need to take note of which apps children are spending the most time on, which websites they open in mobile browsers and which videos they are watching most on YouTube.
10 most popular Android apps, September–November 2021 (download)
In September, October and November 2021, children across the world — actually, as always — spent most of their time on the YouTube app: 31.42% of the time spent on 10 most popular apps. WhatsApp, a messaging service, was second with 19.17%, with TikTok coming in a close third, with 18.77%. Children have not totally abandoned Instagram, but it was a whopping 13 percentage points behind TikTok, accounting for only 5.21% of their time.
Children spent slightly more time surfing in the Google Chrome browser than playing Roblox — 7.08% versus 6.82% — while Roblox slightly outpaced the wildly popular game Brawl Stars, which accounted for 4.78% of children's time. Snapchat was eighth (and third among social networks), with 2.45%, while Viber, the second most popular messaging service, was ninth with 2.16%. Rounding out the 10 most used apps was Netflix, with 2.15%.
Kaspersky Safe Kids Android and iOS alerts distribution by category, September–November 2021 (download)
Let's look more closely at children's activities in mobile browsers: websites of which categories they visited in fall 2021. The most sought-after websites were those used for communication (35.68%) and websites with audio and video content (33.75%). These categories were followed by online stores (9.99%) and resources about gaming (7.54%). Websites with adult content were fifth, with 3.68%. In the past, when we collected statistics in the Safe Kids categories only from Windows and macOS PCs, we assumed that children preferred to visit these kinds of resources from mobile devices. Our assumption was correct to a certain extent. Nevertheless, children and adolescents are significantly less interested in erotic and pornographic content than in games, music, movies and online shopping.
Children's YouTube search queries by subject category, September–November 2021 (download)
We already know that YouTube is the most popular and most visited website among children all over the world. To determine exactly what they're interested in, we need to look at what videos they are searching for most frequently. To do this, we analyzed children's TOP 1,000 search queries over the period from September to November 2021.
In first place in terms of popularity were gaming-related queries (28.43%). In second place were queries related to music (19.14%). The third place, with 16.29%, took names of channels and bloggers that cover a range of content and are therefore difficult to slot into a single topic. Next, with 12.07%, were the names of cartoons, movies and TV shows children were interested in this autumn. Searches for the game Gacha Life and everything related to it accounted for 5.36% of search queries. Memes represented 2.98% of search queries, while channels and videos with DIY instructions represented 2.55%. In addition, the South Korean TV show Squid Game was such a sensation this autumn that we decided it merited its own category. Search queries related to it made up 2.49% of the most popular queries during this period.
Let's look more closely at each of the most popular topics children searched for so we can see what their latest obsessions are and come up with gift ideas for this Christmas.
Games
Top YouTube video game-related searches, September–November 2021 (download)
The most frequent searches were for the names of gaming bloggers or channels on YouTube (41.68% of all game-related queries). The most popular bloggers among children are MrBeast (in English), EdisonPts (in Russian) and Paluten (in German). The second most popular searches were related to Minecraft (22.43%), in particular the queries "minecraft", "minecraft 100 days" and "minecraft live". Judging by search queries, videos related to the online game Roblox (5.92%), one of the TOP 10 most popular apps on Android, are of less interest to kids than Minecraft Let's Plays. As for Brawl Stars (5.44%), kids also prefer to play on their own rather than watch walkthroughs. Fortnite Battle Royale, which we've all come to know and (perhaps not) love in the past few years, accounts for 4% of all YouTube gaming searches. The until recently mega-popular Among Us, however, has already started to bore its young fan base: its share of searches was a paltry 0.97%. Meanwhile, the fight for kids' attention has been joined by some new players in the past three months: Genshin Impact (1.67%) and Poppy Playtime (1.58%).
Genshin Impact is an open-world fantasy game that lets players explore and solve puzzles along the way. The game features an anime-style look.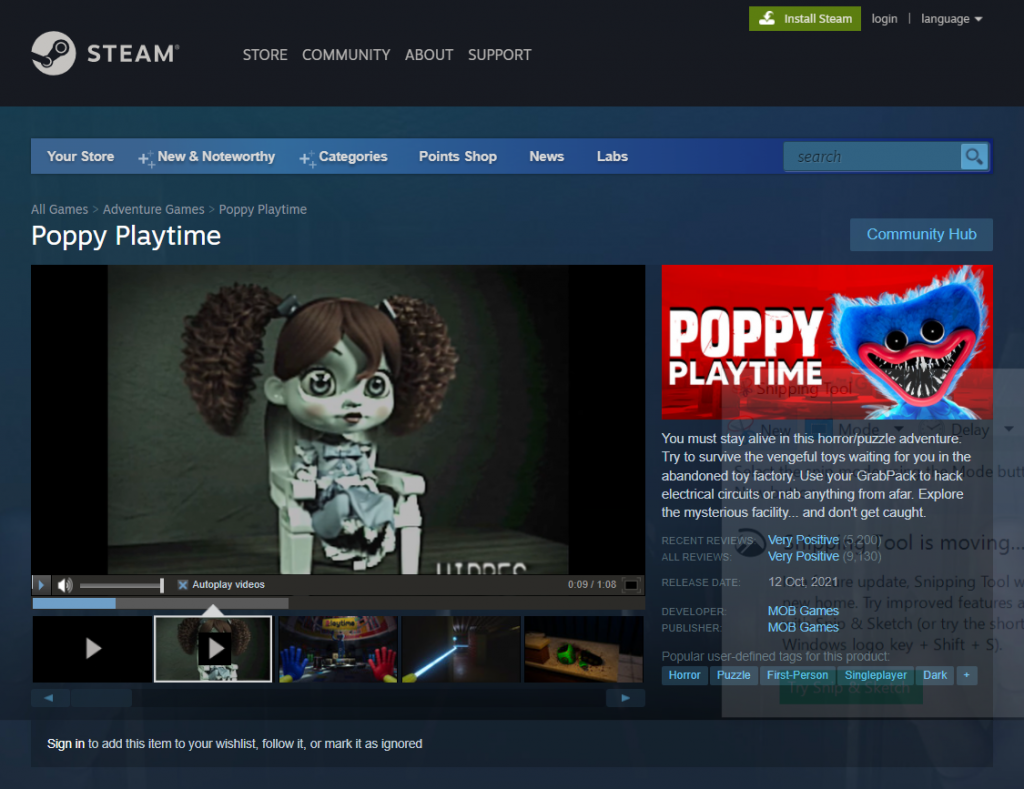 Poppy Playtime, on the other hand, is an indie survival horror game, the first chapter of which immediately wowed kids when released in October 2021. One of the most memorable characters in the game is Huggy Wuggy, a blue furry monster that is already the subject of many memes and its own videos. In the non-virtual world, there is also the Huggy Wuggy plush toy to keep kids entertained. As well as a Pop It version of said monster.
The remaining game-related searches (14.89%) are for other games and game studios, which individually make up an insignificant share of the total. These include, for example, the games Star Stable, Just Dance and Clash Royale, as well as kids' game developer Toca Boca.
Music
In second place by share of YouTube searches is music (19.14%). The most popular musicians this fall, as in previous few years, are BTS, BlackPink, Morgenstern, Instasamka, Lil Nas X, Ariana Grande and Twice. The most popular songs are Love Nwantiti by CKay and two new solo tracks by BlackPink member LISA — LALISA and MONEY. Despite not being new, the K-pop phenomenon continues to interest kids and place highly. This fact is used by global stars who record joint tracks with Korean performers to maximize YouTube views, because kids more than anyone watch music videos and often replay the same track over and over again. This fall, for instance, children showed interest in the band Coldplay, who previously had not been on their radar. All because of the group's joint hit with BTS — My Universe.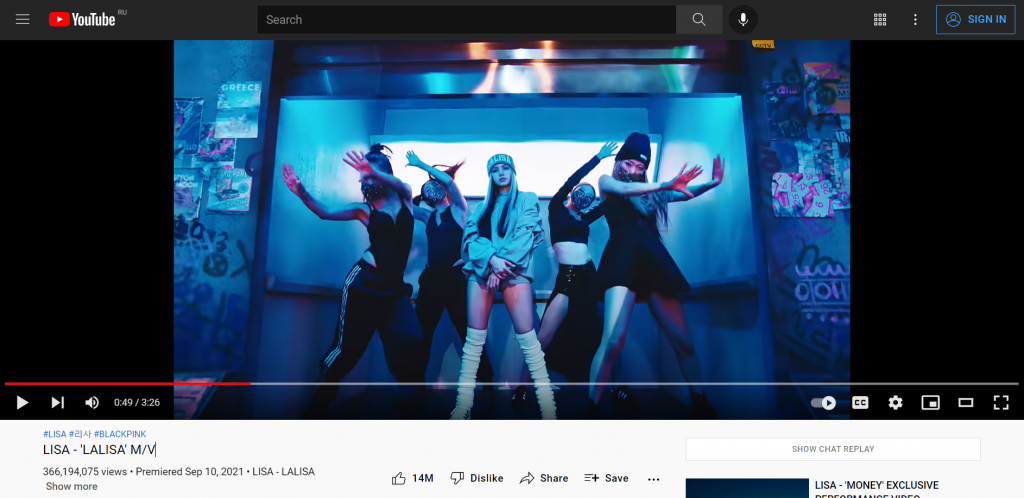 In addition to K-pop, children regularly listen to artists made famous by the social network TikTok, which has recently become a key factor in the music industry. If a track goes viral on TikTok, it's a guaranteed hit. As with Korean stars, established artists seeking to raise their profile among kids are keen to collaborate with TikTok-made upstarts. For example, Russia's Nikolay Baskov released a collaboration with one of the country's most popular Tiktokers, Danya Milokhin.
If you're looking for a gift based on a child's musical preferences, you won't go wrong by watching their favorite video and picking out an item of clothing or accessory on display there. It doesn't even need to be a specific item, just something in tune with the general vibe. You can also buy a pair of high-quality, fashionable headphones for listening in surround sound. A subscription to a music streaming service will also make your child happy. And buying a ticket to see their favorite group will win you lots of brownie points and create pleasant memories that will last a lifetime — priceless.
Movies, cartoons and TV shows
Distribution of YouTube search queries in the Movies, cartoons and TV shows category, September–November 2021 (download)
Among the TOP 1000 most popular YouTube searches, 12.07% are for movies, cartoons and TV shows. And of this figure, 56.38% are for cartoons. The most searched-for cartoons in the fall of 2021 were Peppa Pig, Luntik, The Barkers and Ladybug & Cat Noir.
TV shows are in second place by search frequency: 35.33% of all searches for movies, cartoons and shows. This fall, kids watched Russian comedy show Что было дальше? (What Happened Next), the sixth season of the Russian show Patsanki, the German shows Hilf mir! Jung, pleite, verzweifelt and Berlin — Tag & Nacht, the Korean drama A Beauty of Revenge and the timeless Mr Bean.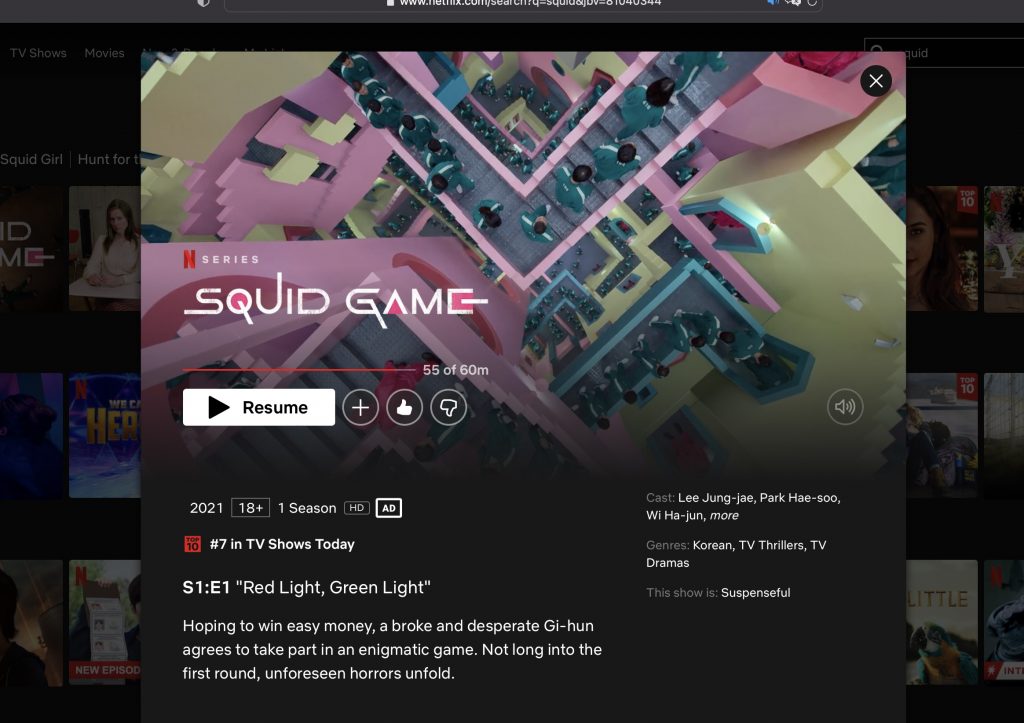 And, of course, there was no escaping the all-conquering Korean show Squid Game, which is so popular we made it a separate item. The entire Internet seemed to go crazy with dalgona recipes, while store shelves were literally overflowing with plush toy versions of the sinister, yet comical masked guards. Even if you haven't seen the series, it is difficult not to have heard of it. Although it's not intended for younger viewers, any kid is likely to be delighted by a gift associated with such a smash hit. In addition to a fluffy security guard, you could present a pair of classic Vans Slip-On sneakers in white. Even after the popularity of the series wanes, light-colored sneakers are sure to remain a stylish wardrobe item. You can also pick up a Squid Game-based educational gift. For example, a game of marbles will quickly teach your child the difference between odd and even numbers.
Movies account for just 8.29% of searches and also show less variety than, say, cartoons. Most often, children searched for Venom: Let There Be Carnage and Spider-Man: No Way Home. The perfect reason to go to the movies or enjoy a cozy family viewing over the Christmas period!
Toys and science: More great gift ideas
Besides the most popular search topics, we've highlighted some less popular ones that can nevertheless help with gift ideas. For example, among toys, kids most often searched for LEGO and Barbie — simply choose a LEGO set or doll that matches your child's likes and interests. Among searches on educational topics, children showed interest in the animal world and scientific experiments. Why not try a kids' chemistry set for Christmas, or throw a physics-themed party? A trip to an aquarium or a zoo is also a great option.
Conclusion
You don't need to be told that to find the perfect gift for your child, you need to know where his or her interests lie. Besides the obvious popular things that nearly all kids love, each child has their own individual interests and hobbies. Moreover, to pick the right gift, you need to understand not only the latest trends and your child's current passions, but also how quickly they become obsolete. Only yesterday children were mad about Among Us, yet today it is gathering dust, having been supplanted by Huggy Wuggy and the Squid Game guards. And the day before yesterday (an eternity ago), spinners and slimes were all the rage, while now Pop It is in. What tomorrow will bring is anyone's guess. In any case, it's worth remembering that a gift is not always something practical and tangible. The best present of all is positive emotions.